The Wonderful World of Hecks is the twentyforth episode and last part of the Season 5 finale.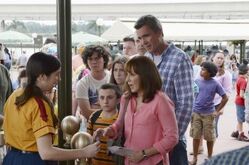 Summary
When the Hecks arrive at Walt Disney World, a good time may not be had for all when a series of misfortunes threaten to put a damper on their trip.
Plot
When they realize they should now be in California and not in Florida, it comes out that Frankie didn't even read the tickets. Luckily, the people at DisneyWorld are super nice and let the Hecks in.
First day is epically horrible. Brick takes his sweet ole time picking out just the right font for his Mickey Mouse hat and then nothing goes right, and Sue needs to be taken to the First Aid tent twice and as a result, they don't go on any rides. But the hotel room they are given is massive. It's the super suite, with a mirror TV is the bathroom and Sue is excited about the uber soft toilet paper, which Frankie shamelessly stuffs into her bright shiny blue suitcase.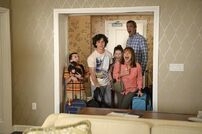 The sheets are so soft that the family sleeps in until the afternoon, meaning they get an extraordinary late start. Their family is still arguing as another tries to take their picture. Sue snaps, flipping through her binder to find the right ride to go on and Mike admits the real reason he wanted to go to Epcot was because he would never get to take Frankie to Paris. Upon hearing this, Frankie dumps the kids and goes off with Mike, leaving the kids to fend for themselves, which is what happens: the kids try to go their separate ways, but it doesn't work and they go on several rides while Frankie and Mike travel the countries and the family even gets together in the end for fireworks, just as any good vacation should end.
Community content is available under
CC-BY-SA
unless otherwise noted.