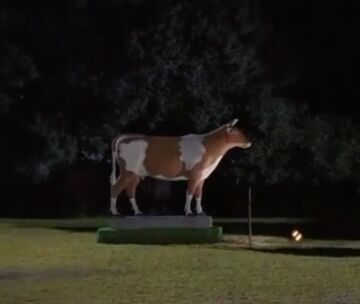 The Polyurethane Cow is the world's largest and Orson 's most famous landmark. 
History
[
]
The Orson cow has been standing for more than 70 years.
Pilot -Frankie (Narrator) mentions that the cow is the world's largest polyurethane cow
The 100th - The cow was a float in the Orsontennial parade drove by Frankie and Mike, but ended up catching on fire.
Siblings and Sombreros- Sue and Brad sit on top of the cow wearing sombreros for their senior yearbook picture. They accidentally knock down the ladder and are stuck on top of it. After many failed attempts to reach someone, Axl gets them down.
Roadkill- When driving the Winnebago, Brick and Axl accidentally crash into the cow. Brick thinks they should turn themselves in, but Axl suggests not saying anything. Nancy sets up a committee to find out who did it. After being too deep, Axl turns them in, and they have to clean the cow for the next year once a week.
The 200th- The cow gets a new look.